2022-09-22 8:30 am - 3:30 pm
Busselton
Old Butter Factory Museum precinct, Peel Tce, Busselton, 6280
Skills in Turning Enhancement Program (STEP)
Wood Art – The Yacht
Module:

WA1
Date:

Thursday 22nd September
Time:

08:30 am to 3:30 pm
Venue:

Busselton Woodturners – Old Butter Factory Museum precinct, Peel Tce, Busselton, 6280
Cost:

$50
Number of Attendees:

Minimum 7, Maximum 12
Trainers:

Charlie Broadbent, Barbara Jennings
Skill Level:

This course is ideal for competent turners
Subject:

This course develops the concept that many pieces of wood art can be created using conventional turning techniques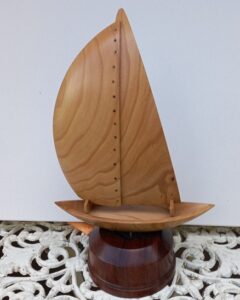 Timber:
Participants are to supply their own timber. Please ensure the timber has no cracks or holes.
A Timber Blank, Light colour wood (Jacaranda, Pine, WA blackbutt, Tuart or similar.
Dimensions 200 / 300 mm diameter, 50/60mm thick.
Timber for Yacht Base any species can be turned or carved from a Burl.
3mm wooden BBQ skewer with the same size twist drill.
Tools:
13mm Bowl gouge.
10mm spindle gouge.
10mm Beading or Parting tool.
Curved 5mm scrapper.
Faceplate with 30mm pine blank screwed to plate.
Hot Glue gun or large Coles Jaws.
PVA glue, 25mm masking tape.
Sandpaper.
Preparation process
Fix blank to Faceplate or chuck.
Turn a curved dish base with a chuck fitting so the blank can be reversed for hollowing.
Hollow dish to a 5 to 6 mm thickness.
Fix faceplate to lathe and turn a matching curve of the dish.
Reverse dish and hold to the faceplate with non-skid material and tailstock and live centre.
Remove chuck from the base of the dish and sand.
Mark out Yacht components using masking tape and cut on the bandsaw.
Glue the sails, hull, and deck components using Skewers and PVA glue.
Prepare the mounting base to fix Yacht Hull.
Assemble Yacht to Base.
What to Bring:
Tea, coffee will be available. Please BYO lunch as you probably won't have time to purchase lunch at a shop.
Next Steps:
Click on the link to access the Registration Application Form.
Click on the link for a pdf copy of this page
Successful applicants will be notified by email along with EFT payment details
Additional courses may be available as required